Includes one exclusive 1.5" hard enamel pin and matching waterproof sticker 


 + Access to member shop w/ previous boxes and pins 


Ships January
WHAT IS THE PEACHIIE PIN CLUB?
The Peachiie Pin Club is a bi-monthly subscription service that delivers exclusive enamel pins & stickers to our members every other month!'
'By joining my pin club, not only will you receive cute pins and stickers to collect and wear, but you also help fund new products for Peachiie Shop!
You also get access to Peachiie's Member Only Shop to purchase past subscriber-only item, including Peachiie Box items (Ita Jackets too!)'
SHIPPING: 
Ships worldwide!
- $15 US & Canada
- $20 for Rest of World
*To keep shipping costs down, packages will be untracked. Please make sure your address is correct.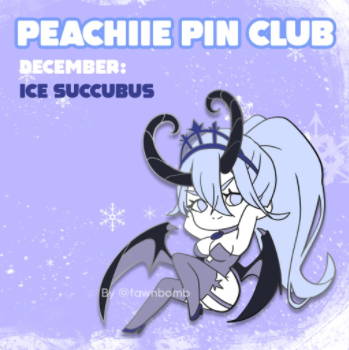 US & Canada $15.00 Free shipping
Int'l $15.00 + $5 shipping
Your payment will automatically be processed at the time of subscription and on the 1st of every other month! (i.e. December, February, April etc)
Ships January.
Cancel anytime as long as it is before the 1st of the next pin club month! Once you are charged, you are locked in, and cannot cancel.